Home
Details

Written by

config

Category: Uncategorised
Hits: 0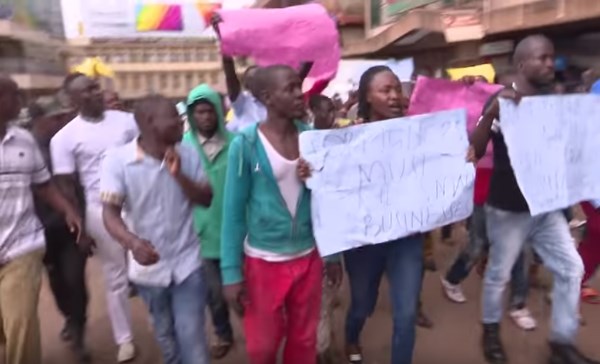 The strike by Kampala traders happened in the early hours of Thursday the 20th April 2017. The traders were protesting against the Chinese investors due the perceived unfair treatment by the Ugandan government of the Ugandan traders that appears to favour the Chinese investors. The Ugandan traders also decried the mistreatment of Ugandan workers by the Chinese investors and the taking over of businesses that would be done by the Ugandans.

The traders alleged that the Chinese come to Uganda as investors however at the end of the day, they then turn to operating other businesses.
This was expressed by the one of the traders quoted as saying;

'When the Chinese come to Uganda, they are given tax holidays, and on the other hand during registration they use other names [such as] "sesa limited" and then later [change the names] to " Daudi Lwanga" '.

During the protest, the Kampala MP Mohamed Nsereko who had come to speak to the protesting traders was taken away by the police. But before he left, he expressed concern over the matters raised by the traders and was quoted as saying,
'We want to find out if some of these Chinese investors have legal documents to be in this country, and we want to hear from these so-called Chinese investors, to tell us how they come to Uganda" .

This is what the MP Nsereko termed as "Operation - How did you come operation to Uganda".
Later in the day, some councillors met with the youth minister Nakiwala Kiyingi and the Kampala Metropolitan police commander Frank Mwesigwa to voice their concerns over the matter.

Kiyingi is on a committee constituted by president Yoweri Museveni to look into the trader's woes. The committee is chaired by trade minister Ameria Kyambadde.
The minister Nakiwala Kiyinji, stated that she had spoken to the committee about the report due to be submitted to the cabinet on the resolutions of what the foreign traders are supposed to trade in and on the other hand also come to an understanding with the Ugandan traders on how to make profits from trade and be in position to eradicate the Chinese investors from the local trade businesses.

In addition, after the meeting, the trader's chairman spoke to the traders in Nakasero market requesting them to reopen their shops while their matters are settled but most of the traders challenged the committee and the minister to provide clarification on the allegation that president Museveni had received financial incentives from the Indians and the Chinese and therefore had connived and allowed them to trade in Uganda.

In summary the Kampala traders blamed the government for the poor working conditions and hiking of the rent for the traders. The strike by the traders is meant to last for three days.